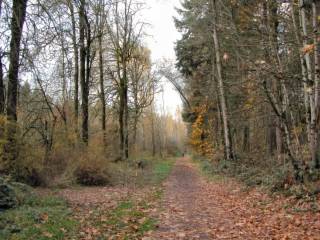 Date last visited: November 16, 2004
Agency: City of Lake Oswego
Path Surface: Gravel/dirt
Elevation gain/loss: minimal
Distance: 1.5 miles or more with loops/extensions
Ratings: Setting ++ Calorie-burning ++
Directions: Parking lot on SW Childs Rd near Lake Oswego. From Lake Oswego, go south on State St., west on McVey which turns into Stafford Rd. Childs Rd is west off Stafford. Just after SW Bryant Ave, look for a parking area and wooden sign on the right. GPS 45 23.157N, 122 43.228W.
A pleasant, albeit short, route with the possibility of extensions. Alder, ash, oak, Doug fir among the flora, in the avian department, see the usual suspects: chickadees, spotted towhee, song sparrows. The parking lot is smack in the middle of the walk, so cross the road into Canal Acres first if you plan to do a longer walk.
Start south onto Canal Road about 100 feet to where posts mark the trailhead. After .3 miles, you emerge from the woods into some prime real estate. Turn left down the road until you join up with Canal Rd again, follow it to the right, past the "Emergency Access Road" gate to see where Oswego Lake Canal flows into the Tualatin River. Return via Canal Road for a 1/2 mile round trip.
Cross Childs Rd again and go north along the path. Several side paths can be explored, but following the loops to the most northwest corner of the park gets you to an exit at the intersection of Albert Circle and Deerbrush Rd. Walk the neighborhood to part with a few more calories. Map.