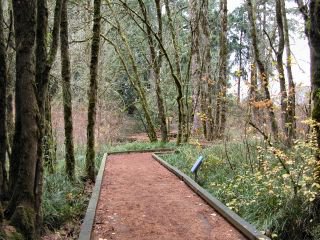 Date visited: September 22, 2010
Agency: THPRD
Path Surface: Pavement, boardwalk and dirt
Elevation gain/loss: minimal
Distance: Variable, but a 4+ mile loop is described below
Ratings: Setting +++ Calorie-burning ++
Directions: From Hwy 26, take the Murray Blvd exit, south on Murray 1.3 miles, west on Millikan Blvd .5 mile, parking lot on right as Millikan curves to the south. Address: 15655 SW Millikan Blvd. Information: (503) 629-6350
This 219 acres used to be just an anomaly of suburbia without organization, facilities or human amenities. I often walked my dogs through the area on narrow dirt trails without seeing another soul. Now that the park has been "improved," dogs are prohibited and it is much more difficult to get that "middle-of-the-forest" feeling because of the popularity of the park. Ah, progress....
Nonetheless, an enjoyable walk is possible here. If you can find a quiet moment, you might be surprised by what you see and hear in the park. Try to block the background noise to listen for the descending call of a downy woodpecker or the buzzy sounds of a towhee or a Bewick's wren. Larger animals also make an occasional appearance, like the deer we saw on this visit.
From the parking lot, pick up a trail map and stroll past the Interpretive Center into the trees on the paved trail. Veer right onto the Oak Trail, which skirts the marshy wildlife preserve through oak, alder and water loving plants. No human trails enter the preserve, with the idea of keeping the area as natural as possible (considering it is smack dab in the middle of Beaverton). For all the natural setting, though, traffic noise from the surrounding area unfortunately seeps through the trees in winter.
After .5 mile, and passing through one of the healthiest stands of
horsetails
I have ever seen, turn left on the unpaved Creek Trail. This trail roughly follows the course of Cedar Mill Creek, but the water is rarely visible. You may, however, see groups of kinglets and chickadees. After walking just over .3, veer right at the Old Wagon Trail. Stay on this trail, ignoring the junction at the Coyote Trail. At the intersection with the Vine Maple trail, turn left and take the short detour to the Lily Pond. We saw three deer here on another trip, one about 10 feet away.
Continue on the Vine Maple Trail .4 mile and turn right on the Elliot Trail. Follow it .1 mile to the Big Fir Trail, which travels through the most mature forest area in the park, across Beaverton Creek and into the West Woods. Make the .7 mile loop of the Cougar, Chickadee, Cedar Grove, Ash and Service Berry Trails. Cross back over Beaverton Creek, return on the Big Fir Trail, and detour on the Trillium Loop Trail by veering right onto the Beaver Trail. Take a look at the Big Pond, a waterfowl hangout in the winter
After returning back to the Big Fir Trail, turn right .1 mile to the Ponderosa Trail. The Ponderosa Trail goes through the South Woods, the newest part of the park, to meet back up with the Vine Maple trail. Turn right to return to the parking lot .2 mile away, for a 4.1 mile total trip.