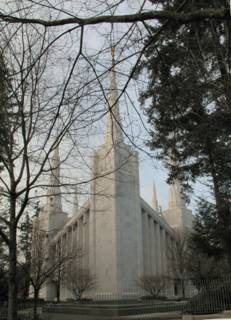 Date last visited: January 14, 2005
Agency: City of Lake Oswego
Path Surface: 99 % paved
Elevation gain/loss: low-195 ft, high 636 ft
Distance: 6 miles
Ratings: Setting + Calorie-burning +++
Directions: Hwy 217 or I-5 east on Kruse Way.
This loop combines neighborhood parks and, unfortunately, busy streets for a calorie-burner in Lake Grove. We picked up this recommendation from the
City of Lake Oswego
. We did not follow the directions there exactly and frankly, with more modifications, this could be a better walk.
We started near the corner of Carman Drive and Kruse Way, but parking is an issue here. Continue up Carmen Dr. into the neighborhood like we did, or if it's a weekend day, try one of the office parking lots to the south. After parking, go west to Kruse Oaks, turn north (right) and go past the LDS (Mormon) Temple. The Temple grounds are usually gorgeous, so you may decide to detour here. Just past the temple, the path dumps you into a neighborhood. Turn right on Pamela St. to Southwood Park, go straight through the park and then east on Suncreek Drive and Melrose Street past Oak Creek School and Westlake Park (which has restrooms). Begin climbing as you turn left on Botticelli and continue east to Touchstone. Go north to Kerr Parkway, where you reach the high point of the hike, then travel east to Boones Ferry Road., south to Kruse Way, and west to Carman Drive if you are ready to quit. Or continue south on Boones Ferry to Oakridge Rd, then north on Quarry Road, passing by Waluga Park. At the roundabout, veer onto Carmen Dr. and back to your vehicle.
Map
.